Funeral Details Announced For Former Lt.-Gov. David Onley
Former Ontario Lt.-Gov. David Onley will be remembered at a state funeral on January 30th.
Morley Bedford Funeral Services wrote on its webpage yesterday that Onley will lie in state at the legislature on January 28th and 29th.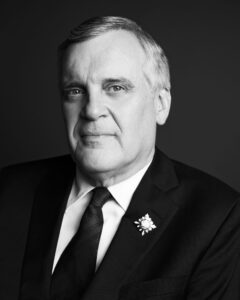 A state funeral will be held on Monday, January 30th at Yorkminster Park Baptist Church on Young Street.
The current lieutenant-governor, Elizabeth Dowdeswell, announced Onley's death on Saturday, saying he used his status as the province's first lieutenant-governor with a physical disability to help break down barriers facing other disabled residents.
His obituary reads, in part: "It is with profound sadness, but with rejoicing hope, that the family of David Charles Onley, C.M., O.Ont, announce his sudden passing at Sunnybrook Hospital on Saturday, January 14, 2023, at the age of 72. After a brief illness, David passed peacefully surrounded by his wife Ruth Ann and three sons, and entered his Eternal Home to meet his Lord and Saviour."
Onley used a motorized scooter throughout his life after contracting polio at the age of three, resulting in partial paralysis of his limbs. Born in Midland, Ontario, Onley's family moved to Scarborough in order to find the necessary medical care required to treat his battle with polio.
Onley frequently drew on his lived experience when highlighting existing accessibility barriers in all facets of society. Dowdeswell said his efforts to draw attention to such issues predated his time in government and could be traced back to his years as a radio and television reporter.
Onley was appointed 28th lieutenant-governor in 2007, the first with a visible disability, and remained in the position for seven years.
In 2014, he joined the University of Toronto Scarborough as a Senior Lecturer, teaching the history of the Vice Regal Office and the politics of disability. That's where he studied; a campus he chose because of its accessibility.
In 2019, he led the Ontario government's review of the Accessibility for Ontarians with Disability Act, making strong recommendations towards an accessible Ontario.
"David's quick wit, dry sense of humour, and deep faith in God will be missed by his family and friends. In his last hours, he held fast to his faith, joyfully cried out Amen, and knew he was going home to be with Jesus," his obituary read.
While Onley will lie in state at Queen's Park for public visitation on Saturday, January 28 and Sunday, January 29, 2023, times have yet to be announced.
His funeral at Yorkminster Park Baptist Church, 1585 Yonge Street, Toronto, begins at 11 a.m. on Monday, January 30, 2023. Limited public space is available and more details are to follow.