Lauren Daigle Returns to #1 on JOY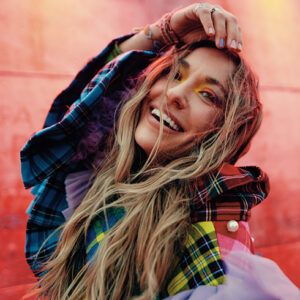 For the first time in 1,085 days, two-time GRAMMY Award winning artist Lauren Daigle returned to the #1 spot on the JOY Top 20 with "Thank God I Do"!
She last topped our chart on July 18th, 2020, with "Still Rolling Stones", a song from the album "Look Up Child" released in 2018. Daigle wrote her latest single upon feeling divine love present in the care shown by her closest friends and family.
Most Recently, the 31-year-old singer told New York Times that "Dealing with post-covid symptoms paired with the animosity that plagued our nation brought me to one of the lowest points in my life. I had to do a deep dive on who I was" (NY Times). She confessed that the two health crises she experienced, though challenging, strengthened her "tenacity and resilience".
"Thank God I Do" is a bruised ballad from herself titled album released in May of this year. The soulful song has gone on to strengthen, encourage and spread love to the 4.3 million plus people who have streamed the song on YouTube and beyond. "Thank God I Do" not only stayed in the top spot of Billboard's Hot Christian Song Chart for two consecutive weeks, but it is also Daigle's sixth #1 single on Billboard. Her other #1 singles on JOY Radio include "Trust in You", "First", "Come Alive (Dry Bones)", "Hard Love (with Needtobreathe)", "O Lord", "Rescue", "Still Rolling Stones" and most notably, "You Say" which spent a record 7 weeks at the top of the JOY Top 20.
"Thank God I Do" is her ninth #1 song on JOY Radio and the twenty-fifth week overall on top of our JOY Top 20 Countdown. That ranks her behind only TobyMac who has had thirteen #1 songs for a current total of twenty-nine weeks at #1.
Daigle surprised her fans by announcing that this recent self titled album was only the first of a double length album! The second half is set to be released in September. You can pre-order/save/add the album on her website. Daigle will also be on tour around the U.S.A. starting July 6th.
Welcome back Lauren Daigle!
View this post on Instagram